At Seamless, we're pretty obsessed with knowing everything about popular NYC restaurants—including the people who run them. With our Couch Convo series, we sit down with the people behind the most delicious local spots. Next up: Sam, co-owner of Motel Morris.
---
Seamless: Motel Morris is a family-owned restaurant. What's it like working with family?
Sam: It's the best! Our group consists of myself, Brett Nidel and Tamara McCarthy. Brett is my brother and he and Tamara are married. We certainly spend a lot of time together, but thankfully we get along and understand not to take business personally. We all have different roles within the company, and we keep each other in check so that we can make it all work.
Seamless: We read that Motel Morris was named after one of your grandparents. Can you tell us the story behind the name? 
Sam: Morris was our grandfather. He was the true patriarch of our family growing up, and he was a hardworking and caring man. We wanted to honor him and his kind spirit.
Seamless: And why motel?
Sam: Did I mention we all live in the same building that the restaurant is in? In addition, several family members, all related to Morris, live in the building as well. We joke that it's our family hotel and thought "Motel Morris" sounded a little more fun.
Seamless: In amNY, you mention the desire to make Motel Morris accessible and approachable. Why was that important to you? 
Sam: We operate a 300-square foot cafe next door called The Commons Chelsea, which has served the neighborhood since 2011.  We have grown so many amazing relationships over the years. With Motel Morris we wanted to build on that sense of community and give our neighbors a larger, full-service dining experience that more people could enjoy. 
Seamless: Okay, let's dive into your delicious food. Pretend it's our first time ordering, what should we get?
Sam: Everything! But we are really excited about our new steak dish, marinated skirt steak with chilaquiles rojos, roasted tomatillos and pickled onions. For a vegan option, try our peanut soba noodles with crispy tofu. And you can't forget to grab a slice of our mother's, Arlene, key lime cheesecake.
Seamless: If it's date night, what dishes would be perfect for a romantic night in?
Sam: An order of our massaman curry mussels and fries to split, along with several of our bottled cocktails to spice things up a bit.
Seamless: How have you embraced New American cuisine within your menu?
Sam: As you can see from the above recommendations, our menu has influences from different cuisines and cultures. Our chef, Bill McDaniel, is from the Southwest and he has cooked in many restaurants throughout his career. We buy local whenever possible and our goal is to make sure our food is comforting and, of course, delicious.
Seamless: With the impact of the coronavirus, how has your team persevered through it all? 
Sam: We are grateful that we are open when so many restaurants have closed permanently.  I think there is just an appreciation that we have jobs at this point, and we all try and stay positive.
Seamless: How are you staying positive? 
Sam: Understanding that there is only so much we can control and focusing on that while being grateful that we have been able to keep our doors open with the support of our very loyal neighborhood.
Seamless: Three words that describe your loyal fans. 1, 2, 3…go!
Sam: Familiar, respectful and hungry!
Seamless: How do you hope people feel when Motel Morris arrives at their door?  
Sam: As if they are about to have our restaurant all to themselves for a short while.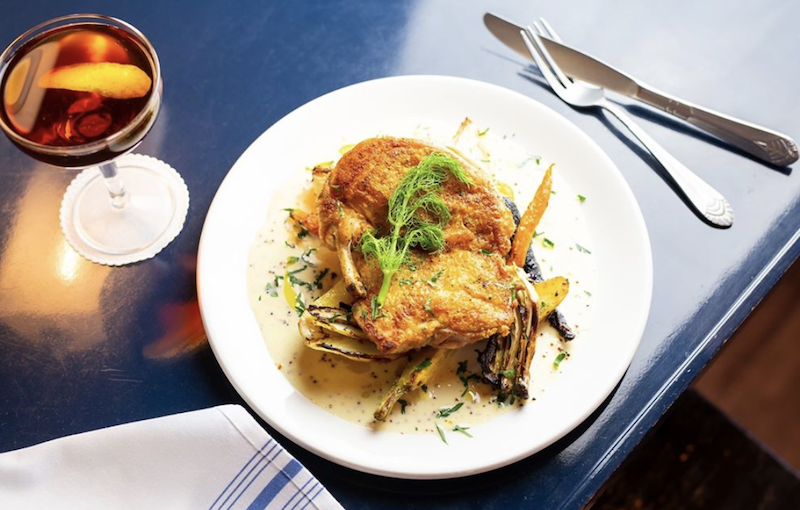 Seamless: Random question: If the Buttermilk Fried Chicken Sandwich and Mad Morris Burger were in a beauty pageant, which would come out on top?
Sam: 50/50 split!
Seamless: Anything else you'd like our readers to know?  
Sam: Please do whatever you can to support your local restaurants. When this is all over, we will all have one big party together and it will be fabulous! 
Craving Motel Morris? Yeah, us too.