At Seamless, we're pretty obsessed with knowing everything about popular NYC restaurants—including the people who run them. With our Couch Convo series, we sit down with the people behind the most delicious local spots. Next up: Vanessa, one of the owners of Qoyas.
---
Seamless: Can you tell our readers a little about you and your family's roles at Qoyas? 
Vanessa: My mom, Alicia, has been in the hospitality and tourism industry for over 25 years. Because of her experience and expertise, she's the manager and financial chief officer. Magaly, my sister, is our executive chef and has been in the event planning and catering business for over 18 years. She's in charge of running the kitchen, creating concepts for our menu, and delighting people with the amazing flavors of authentic Peruvian food. And I'm the business developer and marketing chief officer. I've been in the hospitality and tourism business for over 8 years and recently graduated from NYU with a Masters's in Tourism Management. 
Seamless: Initially, Qoyas was a catering company. Now, it's also a delivery-only virtual restaurant. What motivated you to open it?  
Vanessa: Prior to the pandemic, the three of us were dividing our time between Qoyas and our businesses back in Peru. When the pandemic hit South America, we were forced to put our operations at a halt. Although this affected us emotionally and economically, it gave us the opportunity to actually pivot and find new perspectives on how to operate our business here in NYC. We realized that the number of deliveries had significantly increased, and many restaurants were solely basing their business on it. Then we did our research and learned about the ghost kitchen concept and voila! We saw that there was not a Peruvian ghost kitchen in NYC, especially a women-led one. This is how we decided to go for it and open the first Peruvian, family and women-owned ghost kitchen in Manhattan.
Seamless: What's it like working with family? 
Vanessa: It can be challenging sometimes. We're very strong-charactered women, so there are times we bump heads but ultimately we realize that making decisions that benefit us as a whole, rather than individually, is always the best decision. Each of us knows that having a high-level commitment to this project is a must and it's so gratifying to work under the same mission and vision. 
Seamless: Where did the name Qoyas come from? 
Vanessa: We knew that we wanted our brand and name to represent where we came from, our beloved Peru. So we browsed several Quechua words until we found Qoyas, which means Queens in Quechua. We have a WhatsApp group of the 3 of us that's named Mis Reinas, which means my queens, so picking Qoyas was a no-brainer. That was the ideal name for us, it represents how we see each other and treat each other.
Seamless: What makes Peruvian cuisine special?
Vanessa: Peruvian cuisine is SO diverse, it carries a long history and influence of many other countries' gastronomies from around the world. On top of that, our different regions within the country carry unique ingredients and products, like over 3,000 types of potatoes—which ultimately creates a flavor like no other type of cuisine. 
Seamless: Let's pretend It's our first time trying Peruvian food, what should we order?
Vanessa: Pan con Chicharron, if you're looking for a sandwich. And Lomo Saltado is a popular dish to try. If you're looking for comfort food, get Huanca and Cheese. For dessert, definitely order our moist Peruvian cookies, Alfajores. And to drink, our Chicha Morada is the best. The portions are very generous, so it's a worthwhile experience.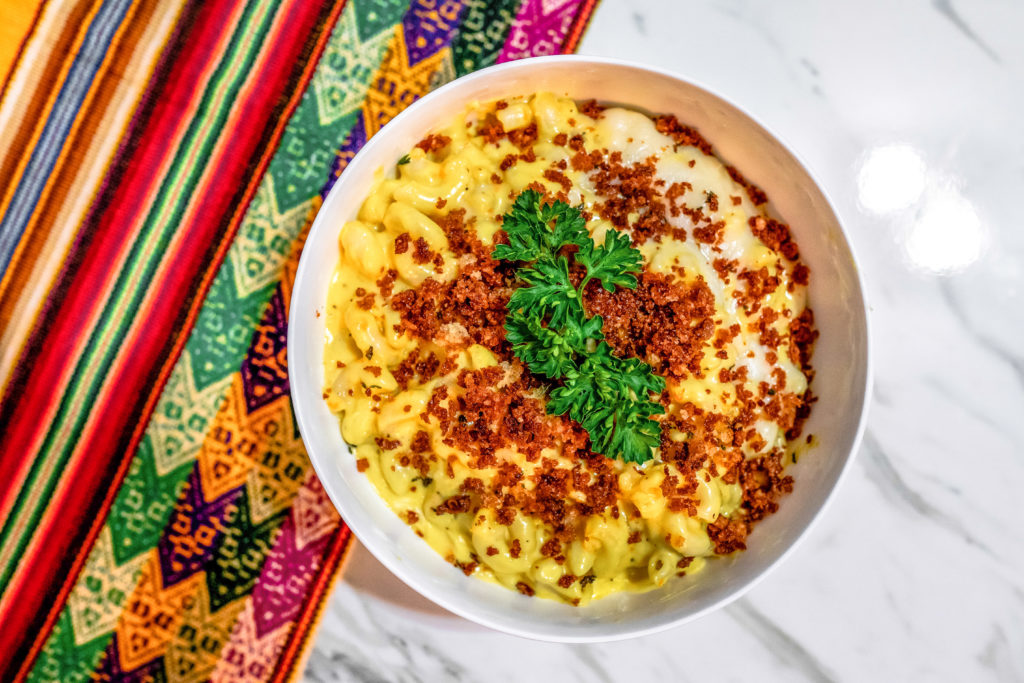 Seamless: If it's date night, what dishes would be perfect for a romantic night in? 
Vanessa: For a romantic dinner at home, we suggest our filet mignon over fettuccine Huancaina. It's deliciously creamy pasta with tender sauteed filet mignon. Other good options are the traditional Aji de Gallina or Quinoa Chaufa with filet mignon or chicken. It's a very tasty and healthy option. 
Seamless: What about girls' night?
Vanessa: Definitely our comfort food options—like Anticucheras or Nikkei chicken wings, Salchipapas and our sandwiches—because they're sharable. For a healthier option, we'd recommend our Quinoa salad bowl. For the ladies that love brunch, be on the lookout for our brunch menu. Dishes like french toast filled with Lucuma, a delicious authentic Peruvian fruit, and our take on Steak & Eggs will be included.
Seamless: How do you hope people feel when Qoyas arrives at their door?
Vanessa: Excited! Our slogan is: we deliver unique Peruvian culinary experiences. We want to take our customers on a Peruvian culinary journey through each bite. Not only did we create our menu with love, but every person that receives our food will also get a postcard that has a QR code that takes them to our website with the dishes' history. It's all about elevating and making Peruvian gastronomy known because we are more than rotisserie chicken and ceviche.
Seamless: Three words that describe your loyal fans. 1, 2, 3…go!
Vanessa: Supportive, amazing, and has good taste!
Seamless: How are you staying positive during this time?
Vanessa: Our passion, dedication and love fuel every single day.
Seamless: Anything else you'd like to share?
Vanessa: Stay tuned for what we will be rolling out this month, not only breakfast and brunch will be added to our menu, but we're also adding weekly specials of classic Peruvian dishes that are not currently on the menu. Follow us on Instagram and Facebook for updates, promos and recipes. And sign up for our newsletter through our website to get special discounts! Lastly, as the weather gets warmer, you're welcome to pick orders from our kitchen. We love when customers come to visit and meet the Qoyas!
Craving Qoyas? Yeah, us too.